Suited well for boxed candy and gum.
Sits flat or at a a 15 degree downslope.
Bilt in front fence holds boxed goods from falling off frint of shelf.
Compatible with most Gondola Shelving System manufactures such as Madix and Lozier in most sizes.
P/N 13WCANS
---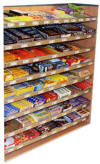 Browse a large selection of Candy Racks for a counter and your existing Gondola Shelving System.